Regular price
$129.99 USD
Regular price
$129.99 USD
Sale price
$129.99 USD
Unit price
per
Sale
Sold out
In stock
See more shipping info

Shipped within 2 business days by keydous.
Once your parcel produces CUSTOM DUTY, please contact us as soon as possible.
Ask a question about our products or service
Share
View full details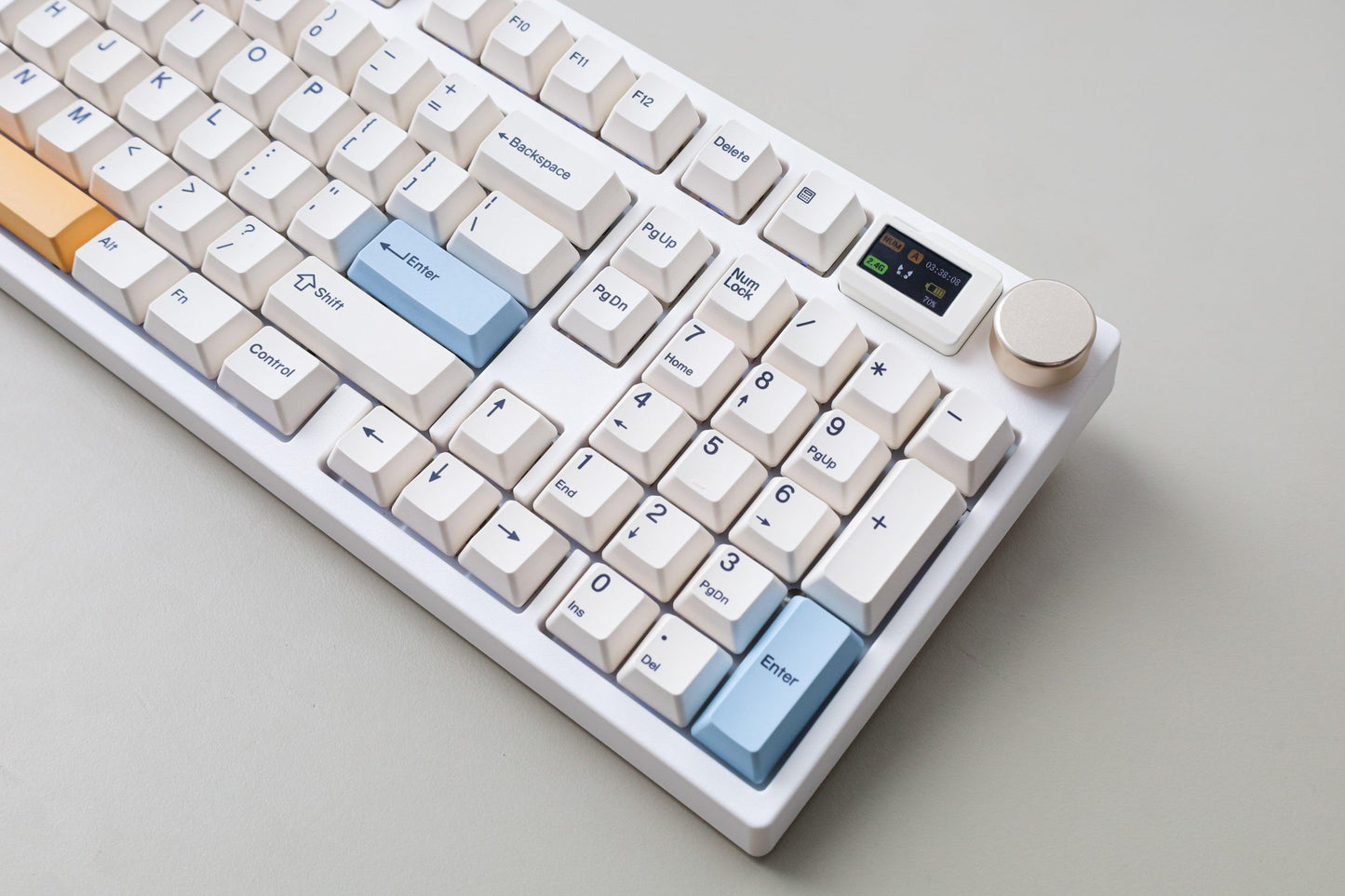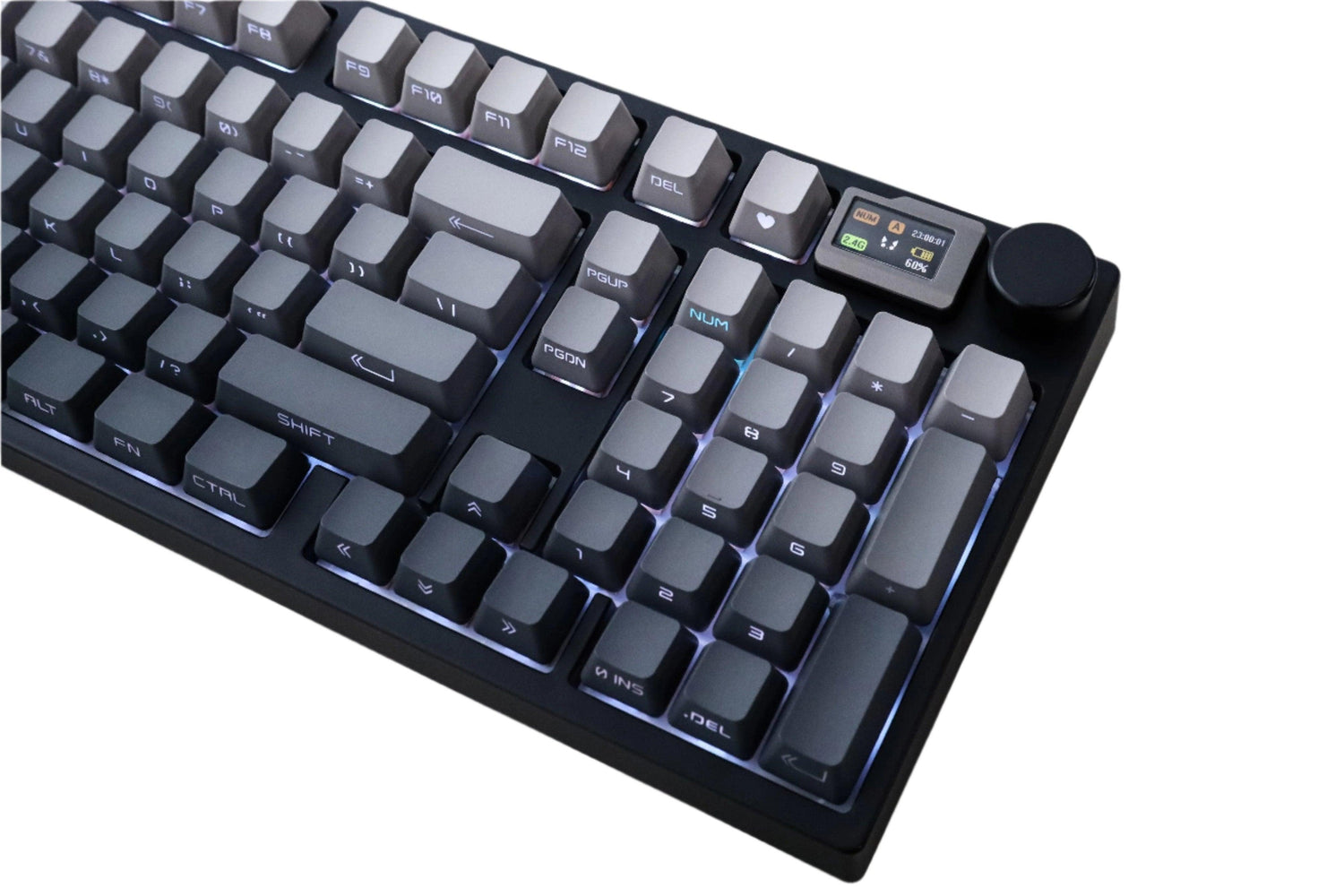 Magnetic Docking Screen
Upload your favorite images to cutomize the little screen,adding a little enjoyment to relax your mind amidst the heavy workload.
Up to 8 images(3 gif and 5 static) can be uploaded and switched.
Display the time,battery,connection,hints of number lock and uppercase in default.
Handy Calculator
Conveniently and swiftly perform a quick calculation on the screen.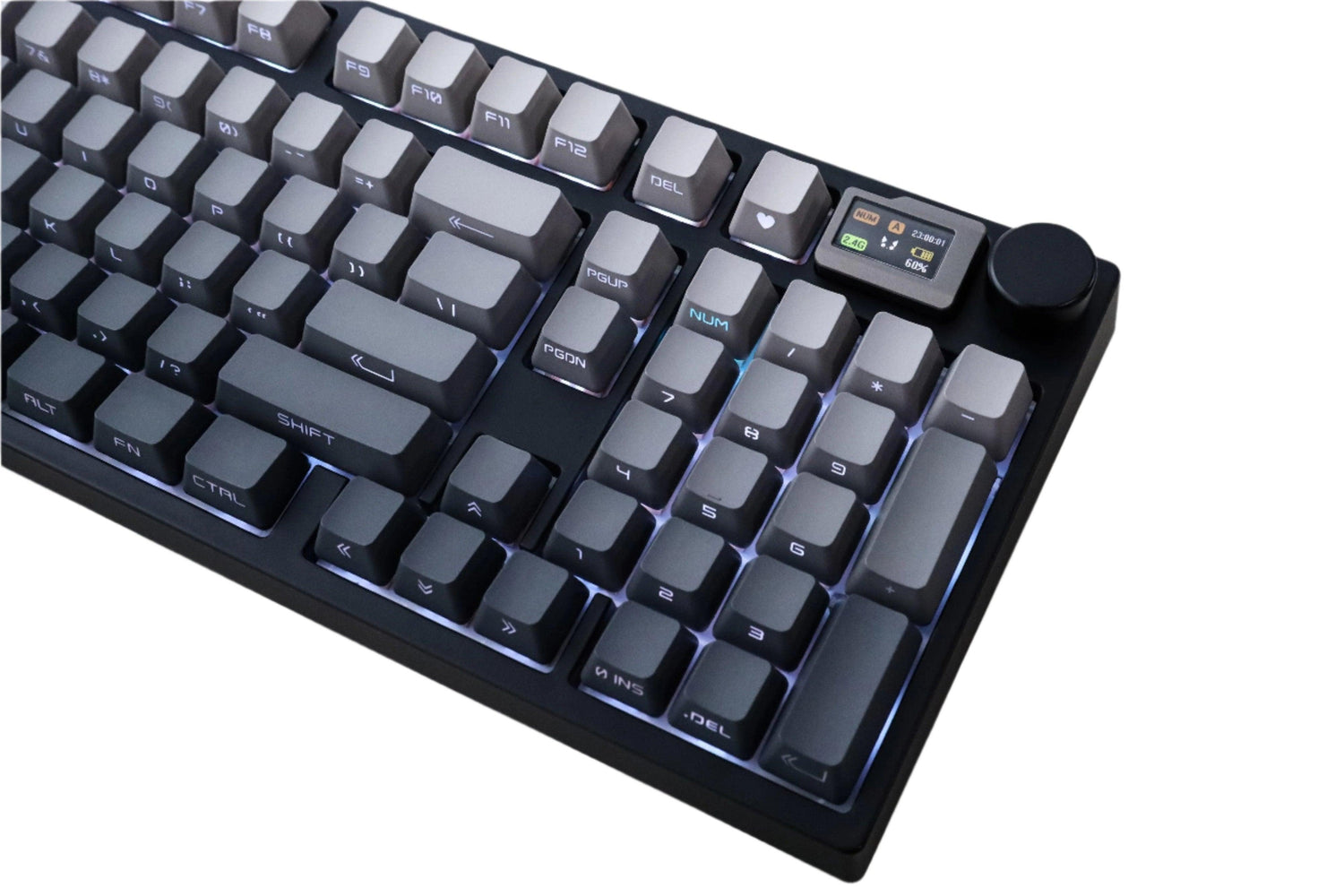 Aluminum Alloy Knob
Clickable | Programmable | Replaceable
Unlimited rotation with soft tactile turning feedback.
Turning left or right to adjust volume, pressing down to mute.
Customize its function to meet your demand for improve your productivity.
Hot Swappable PCB
Easy to swap the switches to define your typing feel without soldering.
Supporting most of the common 3 & 5 pins switch types available in the martket.
PBT Keycap
Selected PBT material is delivering a delicate touch like fine sand. It is durable and harder to get oily and yellow even after long term usage.
Sharp and clear legends is harder to get fade.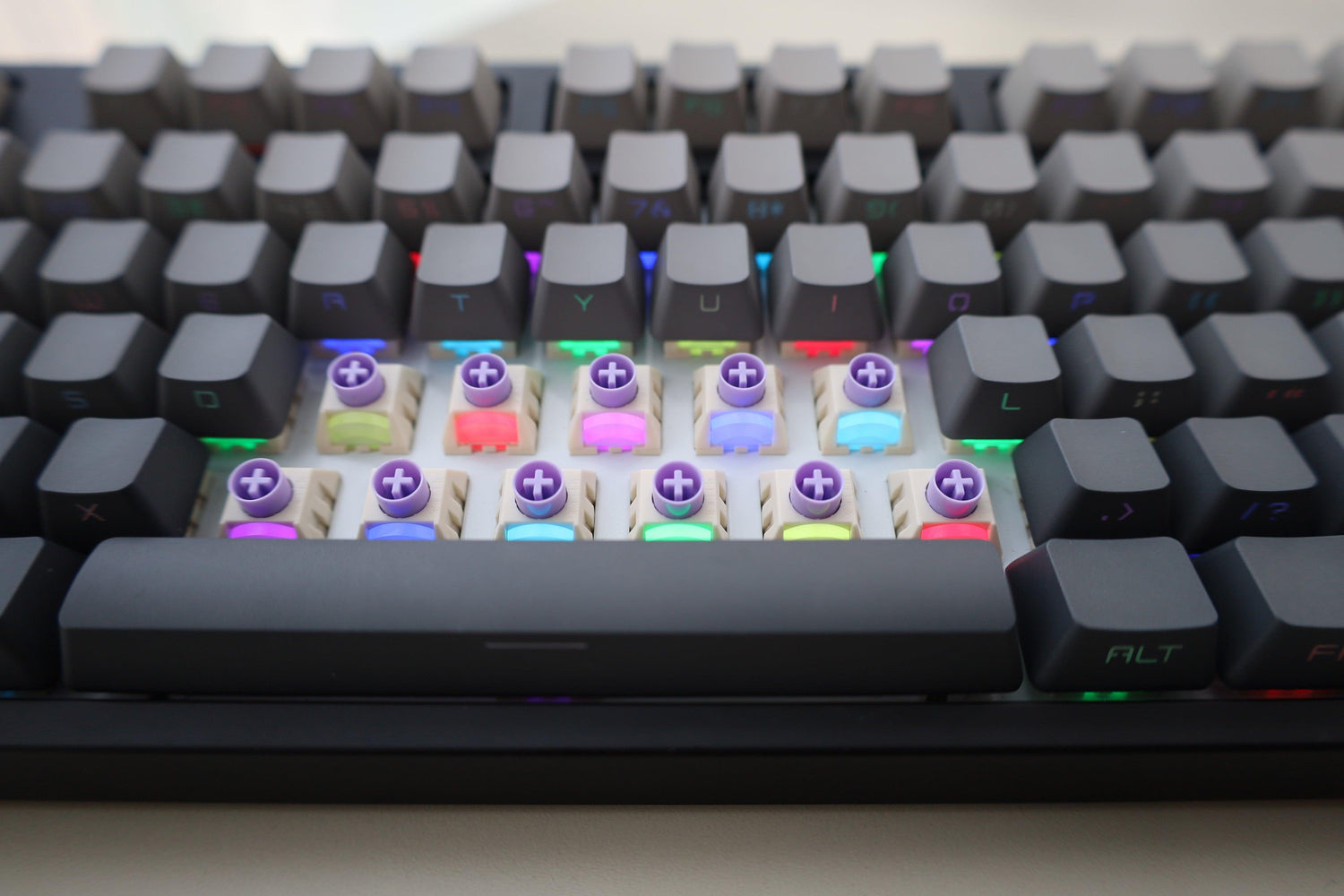 South-facing RGB
Customizable 16 million colors
Pre-set 16 types RGB modes
Customizable static and dynamic light effects
Bluetooth+2.4Ghz+wired modes
3 connection modes enable NJ98 to seamlessly switch among five devices for versatile multi-device usage scenarios.
Bluetooth 5.0 chipset ensures low latency and stable connection
Comparison of Different NJ98 Versions
White/Pale Green
Dark
Black Samurai
Blue Samurai
Keycap
Double shot PBT side lit shine through
Dark
Keycap
Double shot PBT side lit shine through
MAC Layout

FN+M to enter/exit mac mode to switch to MAC layout.
FN+F to switch the standard or mac multi-media keys in F row.

Switch+PCB+bottom Foams

Reduce the typing noise for a better typing sound.
INOAC PORON foams for PCB and bottom foams.IXPE switch foam

Pre-lubed switches

Properly pre-lubed switches and stabs offer buttery smooth out of box
Multi-function Driver
Easy setup of keybindings / marcos and RGB
Download or share the keybindings or light effects
Supports MAC and Windows
Onboard memory to run the saved settings in any computer
Steel VS brass plate
Steel Plate

Good durability
Produce a louder sound

Brass Plate

Produces a deeper sound
little heavier than steel plate
High-quality look
Good durability
Specs of the pre-assembled switches
BOX Strawberry Ice Cream

Light resistance with less typing noise. Suit for office use.

type: linear
Pre-lubed: yes
material: full POM
operating force: 37±10gf
Pre-travel: 1.7±0.4mm
Total distance: 4.0±0.3mm
Sound Level: low
Mechanical Life: over 50m times

BOX Blueberry Ice Cream

Speed linear switch with faster reaction, performs better in games.

Type: Linear
Pre-lubed: yes
Material: Full POM
Operating Force: 40±10gf
Pre-travel: 1.0±0.4mm
Total distance: 3.5±0.3mm
Sound Level: low
Mechanical Life: over 50m Times

BOX Taro Ice Cream

Light resistance with faster reaction.Brighter light effect with the LED pipe by converging the light. Suit for gaming and office.

Type: linear
Pre-lubed: yes
Material : Full POM
Operating Force: 37±10gf
Pre-travel: 1.3±0.4mm
Total Distance: 3.5±0.3mm
Sound Level: low
Mechanical Life: over 50m times

BOX Coffee Ice Cream

Tactile switch with tactile feeling ahead. Brighter RGB light effect with the LED pipe by converging the light.

Operating Force: 37±10gf
Pre-travel: 2.0±0.4mm
Total Distance: 3.6±0.4mm
Michanical Life: Over 50m cycles
Material: full POM
Pre-lubed: Yes

BOX Deep Sea - Islet

Mute typing sound. Featuring a blue transparent PC cover and prolong transparent stem

Type: Linear
Pre-lubed: yes
Pre-travel: 1.8±0.4mm
Total travel: 3.6±0.4mm
Sound Level: mute
Suit for: gaming/ office

Gateron Milky Yellow Pro

Translucent white housing allows for more RGB lighting Typing feel is smooth and consistent from top to bottom

Type: Linear
Pre-lubed: yes
Operating Force: 50±15gf
Pre-travel: 2±0.6mm
Total Travel: 4.0mm Max
Sound Level: low
Mechanical Life: 50m Times
Specs of NJ98 Keyboard
Case Color:
White/Pale Green: Solid White case
Dark/Blue samurai: Solid black case
Black samurai: smoky black case(translucent)
Compatiable System:
Wired Mode: Windows 2000/xp/vista/7 and above, MAC OS and Linux
Wireless Mode:Win 7/IOS 7/MAC OS 10.10/Android 4.4 and above
Demension: 403*138*40mm
Net Weight:1.4KG
Battery: 8000mAh Li-battery
Polling Rate
Bluetooth mode:125Hz
2.4ghz/wired mode: 1000Hz
RGB&screen always on: 29 hours
Power Saving Mode(RGB&screen off): 800 hours
Note: lab test result. The actual lasting time may be vary from the actual using situation.
USB cable operating voltage: DC 5V
USB cable operating current: 30-300mA(without charging)
NJ98 Keyboard *1
Switch & keycap puller *1
USB type-c Cable *1
Dust cover *1
2.4Ghz Dongle *1
NJ98 is a hidden treasure in the mechanical keyboard world....
Very solid, stylish, well built keyboard.
The screen feature is a nice touch. I keep the stock format that displays the useful information (caps lock indicator, battery life, connection type).
The 'cal'culator feature is nice as I use the numpad a lot and so is the knob. The latter being most important. (I upgraded the stock black one with the gold coloured knob to better match the layout).
The battery life in wireless mode has been amazing and lasts a very long time on a single charge (I'm not a gamer and maybe don't put much demand on it but impressed compared to my velocifire vm02).
The tri mode connectivity was important to me and glad a keyboard of this quality has this feature. Having a wireless, stylish, high quality mechanical keyboard completes my minimal desk setup.
The brass plate and overall weight of the keyboard feels excellent. Very heavy, solid feel. I chose the kailh box blueberry switches (wanted the browns, but were out of stock) and they have a nice, subtle 'thock' sound and feel. Pleasant surprise... (Glad I saw the "Click and Thock" youtube video on these switches). Had planned to get the Gazzew bobas U4s or kailh box v2 browns for fear these wouldn't be good but I think the heft of this keyboard with brass plate, foam padding, and smooth switches make it excellent as it is. No urge to mod (as I had initially thought before my purchase while searching for my next keyboard).
The keyboard software isn't the greatest but I don't really rely on it for my needs. I remap keys using Powertoys. I installed it, played with a few setting/features, set the leds... and that was it. Uninstalled it. Might check for updates in the future to see if the UI has improved or if there are added features.
The model I chose (Samurai Blue) came with a lof of extra keycaps which was very nice and useful as I swapped out the the 'pgup' and 'pgdn' keys with 'home' and 'end' keys (and remapping). Way better functionality for me as I am used to full size 100% layout.
Hopefully Keydous plans to come out with the full size version of the nj98....but right now I am really enjoying this keyboard. Looks and feels amazing.
Thank you Keydous.
Very pleased
I love the looks and sound of this keyboard with Deep Sea silent linear switches. I am very happy with what I got and the whole buying process, with shipping alerts and everything. Good job guys!
Amazing Keyboard
Took a little longer than I expected to get here but I think I got my moneys worth!
Great Keyboard.
I got the Taro Ice Cream switches, and out of the box, this thing sounds great. The build quality is amazing. It's super satisfying to type on all day for work and quiet enough not to be obnoxious in the office. The customizable features are good too. Able to customize lighting and screen gifs are fun little things, but also being able to rebind everything on the keyboard easily with the program makes some work tasks super easy. Highly recommend this keyboard to anyone who wants something that they can take to the office and use for WFH.
Fantastic keyboard with a lot of potential.
Although I just got mine rather recently and haven't modified it, it's rather wonderful to use straight out of the box!