NJ98 is a 96% keyboard with a number pad,  screen, and knob, which can enhance your keyboard usage efficiency in the following aspects. 
Multi-scenario Usage
NJ98 mechanical keyboard supports Bluetooth, 2.4GHz, and wired modes, allowing you to connect multiple devices,
including smartphones, computers, and tablets. It is compatible with MAC, iOS, Android, and Windows systems,
and the switching of key combinations enables seamless usage across multiple devices.
Number Pad
The number pad significantly improves the numeric input efficiency for certain professionals, such as those in finance and

operations who frequently require numeric input and calculations. Compared to a 75% keyboard, the additional number pad in the 96% layout provides a more convenient and efficient way to input numbers.

Alternatively, you can set macro keys on the number pad to avoid conflicts with other keybindings or macros.

You can also use FN+Vertical Enter to activate the calculator on the keyboard's screen for quick addition, subtraction, multiplication, and division operations. Additionally, you can launch the built-in calculator software on your computer by pressing the calculator key located on the left side of the screen.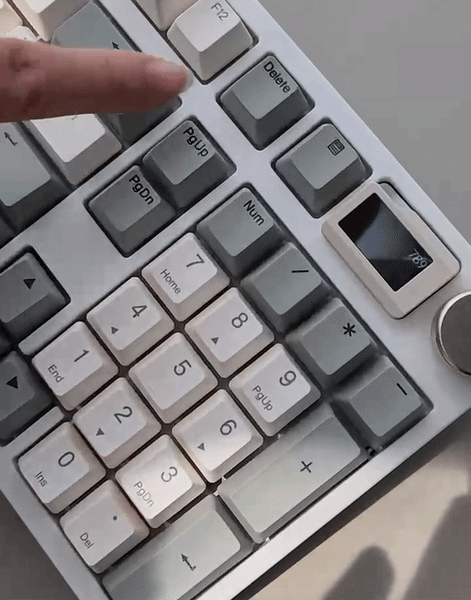 Metal Knob
The metal knob can be customized through the Keydous driver software to suit your preferred key settings and enhance your usage efficiency. The default function of the knob is to adjust volume by rotating it left or right, and it can be pressed to mute the sound.
Fully Programmable Keys
Using the Keydous driver, you can remap all keys, including those on the FN layer, to set key macros or other shortcuts. The FN layer's combination key setting allows you to hold down FN and trigger the desired key. For example, if you set the FN layer's number [1] key to the [Q] key, pressing FN+1 will input the letter Q.
Hot-Swappable PCB
All keys are hot-swappable in nj98 custom keyboard, allowing you to find the typing feel that suits you best according to your preferences. Our exclusive Strawberry Ice Cream switches, which is a co-branding switch with Kailh, provide a light and responsive typing experience with a 37gf actuation force. The switches are moderately factory-lubricated and made of full POM material to reduce noise when pressing the keys.